What is acupuncture?
Acupuncture is a treatment modality involving the insertion of sterile, single-use, ultra-fine needles into the skin at specific empirically tested points on the body. Although it is becoming a new treatment option for more and more patients in the United States these days, it is far from being a newly developed therapy. Acupuncture is part of a system of healing developed over thousands of years as part of the traditional medicine of China, Japan, and other Eastern Countries. Through its well-tested methods, it has been proven to successfully treat disease, prevent illness and restore normal function throughout the entire body.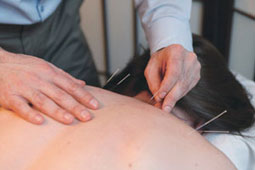 The World Health Organization (WHO) recognizes acupuncture as an effective treatment method for many conditions, including:


• Orthopedic disorders of the muscles and joints including pain syndromes, trauma, and arthritis


• Neurological damage associated with stroke, numbness, and paralysis


• Cardiovascular conditions such as high blood pressure and irregular heart rate


• Gastrointestinal disorders including GERD, stomach ulcers, diarrhea, and constipation


• Respiratory diseases such as asthma, bronchitis, and frequent colds and flus


• Gynocological issues including menstrual irregularities, infertility, fetal malposition, and delayed labor


• Psychological disorders such as depression, anxiety, and stress-related syndromes
How does acupuncture work?
For over three decades, modern scientists have validated the beneficial effects of Acupuncture through research studies. Several theories have been used to explain the different ways that Acupuncture can promote the body's natural ability to heal itself and prevent disease. The most popular theories show that Acupuncture can influence certain aspects of the nervous system that control the senses and the perception of pain, as well as others that can restore strength and movement to impaired muscles. Focused studies have also been conducted on the regenerative effects that Acupuncture has on components of the immune system, it's regulating effects of blood pressure and heart rate, and the activation of many kinds of naturally occurring hormones and chemicals such as endorphins, neurotransmitters, and histamine that mediate physiological activities. As science continues to seek answers to many of the body's inner mysteries, the biomedical explanation of Acupuncture will continue to grow and evolve.

The mechanism of acupuncture can also be explained through an energetic model as it has been for over 5,000 years within the framework of the traditional medicine practiced in China, Japan and other Eastern Countries. This view is based on the theory that the body has a vital energy force that flows through a network of pathways, called 'Channels' or 'Meridians', connecting all organs, tissues, and cells. This vital energy force, or 'Qi' (sometimes 'Chi'), provides all of the body's essential activities for life on both physical and psychological levels, and behaves according to reliable cycles and universal laws outlined by ancient Chinese scholars. A person's health depends on the proper amount, direction, and distribution of Qi throughout the body and an imbalance will lead to dysfunction, illness, or pain. The stimulation of Acupuncture points, situated along the Channels, can restore and maintain the necessary flow of Qi to alleviate unwanted symptoms and reverse the detrimental effects of many disease states. Acupuncture points are chosen for their predictable effect upon the vital energy force that passes through them. Many modern researchers have found evidence that supports this view and recognize the Channel system as being embedded within the functional activity of many different physiological systems. Their studies show that Acupuncture points serve as organizing centers of information for these complex systems and facilitate communication between dissimilar messages.
What is Cupping?
By creating suction in a glass cup by heating up the air inside the cup and quickly appling that cup to the body, skin and the underlying tissues are drawn up under the cup.

This therapeutic proceedure helps to relieve chest congestion and benefit the lungs and can even benefit menstrual problems and digestive problems. Most commonly, it's used for aches and pains of various types as well as respiratory problems, cough, and wheezing.

Cupping has been found to affect the body up to four inches into the tissues, causing tissues to release toxins, activate the lymphatic system, clear colon blockages, help activate and clear the veins, arteries and capillaries, activate the skin, clear stretch marks and improve varicose veins.

Cupping is a great deep tissue massage. Cupping is very safe and can be incorporated into acupuncture treatment.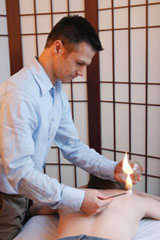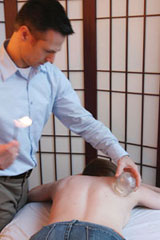 What can I expect during my visit?
Your first visit will begin with an in depth assessment of your condition and an initial treatment. The intake and treatment may take up to 1 1/2 hours for a new patient. Typical treatments afterwards will last approximately 45 minutes. It is recommended that patients have something to eat approximately one hour before your appointment and avoid drinking caffeinated beverages at least 30 minutes prior to your visit.

Your Acupuncturist will ask about particular details regarding your chief complaint, as well as other aspects of your life such as your emotions, sleeping patterns, and eating habits. Acupuncture's diagnostic system uses all of this information to understand you as a whole person. not just one isolated symptom when interpreting your condition. While the treatment will focus on your chief complaint, your whole being must be considered in order to develop the most appropriate course of treatment. As part of your assessment, the Acupuncturist will conduct a diagnostic physical exam including a look at your tongue and analysis of the rate and quality your pulse. To your Acupuncturist your tongue and pulse are like maps to what is happening inside your body. These techniques can provide a great deal of information and help to guide the treatment.

After your Acupuncturist collects the necessary information and a treatment plan is set, they will place you in a comfortable position to insert the needles. Once the needles are in place, you will relax in the treatment room for about 20 minutes. Electro-Acupuncture may sometimes be used to enhance the effects of your treatment by applying low intensity, electrical impulses to several needles. Many people find Acupuncture relaxing while some people may even fall asleep. After about 20 minutes, the needles are removed and the session is complete.

Treatment will consist of the insertion of approximately ten to twenty or more sterile, single-use, ultra-fine needles into the skin at very precise points on the body. The number of needles used and the locations where they are placed may change slightly from session to session. With Acupuncture, more needles do not always mean better results. Accurate selection of specific points and placement are really the keys to a successful treatment.
Does acupuncture hurt?
Acupuncture needles are very thin and tend to slide between structures in the skin rather than pierce them. Most patients experience little to no discomfort with their application. While many Acupuncture patients are initially wary of the claim that Acupuncture doesn't hurt, they soon discover that the experience is quite pleasurable. In some cases, you may experience a tingling sensation or slight pressure around the needle site. This is a common signs that your body is responding to the needle stimulation.
How long will it take to get better?
Once you initiate a healing process, it is important to follow through on treatments. The more consistent you are, the better the likelihood of results as the effects of Acupuncture tend to be cumulative. The ideal approach is to begin the treatment process as soon as possible. Generally, most health problems require several treatments with chronic and more severe conditions requiring up to ten or more treatments. During the course of treatment, you should see an improvement in your main complaint as well your overall health.